THRIVING AFTER HIGH SCHOOL
Have you ever noticed that the people that seem to thrive in life have clear goals and objectives. Success in any area of life is usually the result of following an intentional plan. This is especially true for people living with a disability.
Creating a vision based on your son or daughter's gifts, interests and passions is absolutely critical to their future. If you haven't had a chance to read our first Action Guide: Planning for the Life You Want, that's a great place to start.
For many, success after high school is often dependent on choices made while in school and the skills and attitudes developed as a young person. While every person is different and will have different experiences and opportunities, the school years are a time to build a foundation for adulthood.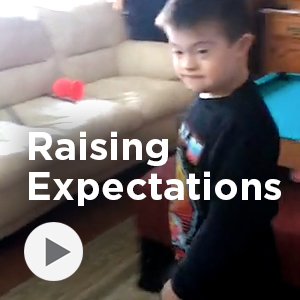 Ingrid's son Alex is 8 years old and together they' have high expectations for his future.
While abilities vary, instilling a basic sense of responsibility at an early age can pay big dividends later in life. Responsibility is best learned at home beginning at a young age.
Ingrid's son Alex is 8 years old and together they're already planning for his future. Alex's parents' dream is that when he leaves school, their family will sit down at their kitchen table to weigh the pros and cons of competing job offers he'll have from a variety of employers.
As an adult, Alex's opportunities will not be limited to programs or services but will be based on his skills, abilities and the contributions he can offer others.
In addition to contributing at home there are many opportunities to develop skills, foster friendships and contribute within your community and neighbourhood. Are there roles at church, in community groups, clubs, sports or youth groups, environmental groups, etc. that your son or daughter can participate in and contribute to? It's important to be involved and try many different activities.
Don't forget about part-time work. While many students without visible disabilities work part-time throughout high school, we have found the expectation is much lower for students with a disability. According to the Ontario Disability Employment Network, the best indicator of successful employment after school, is having a part-time job while in school.
It seems that families interested in a fully inclusive education for their children face more hurdles these days. More and more schools are primarily offering congregated programs. It goes without saying that students who have an opportunity to attend their local school in regular classrooms and spend time with and learn from other typical students are much better equipped for life after school.
Regardless of the school your son or daughter attends, many secondary schools offer a range of opportunities to become involved with extracurricular groups, clubs or activities. Look for ways your son or daughter can get involved and participate in extracurriculars.
Co-op programs are an ideal way to develop skills and strengths to prepare for life as an adult. When possible students benefit from trying several co-op placements, but beware of token co-op placements in school. To have the best experience and maximize the benefits, look for placements out of school and in the community. Ideally choose placements that are a good match for your son or daughter based on their skills and interests.


You can apply to Disability Service Ontario (DSO)
at age 16 and are eligible for supports at age 18.
Today there are a variety of opportunities for students living with a disability to participate in post-secondary education and even experience living in a dorm and all the social benefits of college. Students with a developmental disability have an opportunity to attend college through the Community Education through Co-operative Education Programs (CICE).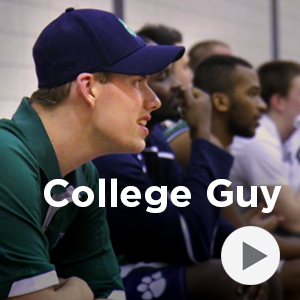 Completing his two-year college program allowed Andrew to achieve his academic dream and expanded his life in many ways.
For students who meet the standard entrance requirements, most colleges or universities have an Accessible Learning Office and depending on the school, provide a variety of accessibility supports. The National Educational Association of Disabled Students website (NEADS) is a valuable resource. Select the Education Tab on their home page for a variety of educational resources for students with a disability including a directory that lists the Disability Services Contacts and websites for most post-secondary schools in Canada.

When your son or daughter graduates from school and is ready to launch into adulthood, there are a number of creative strategies you can explore to get started.

A first step may be to engage an Independent Facilitator who can help them develop a vision and plan and can connect them to opportunities in their community. While facilitation can be effective at any time, it's particularly beneficial when someone is undergoing a major transition like graduating from school. The Ontario Independent Facilitation Network (OIFN) provides more information on Independent Facilitation at OIFN.ca. Additionally, P4P has connections to a number of facilitators in different parts of the province.

If you have been through the DSO Assessment process you may have qualified for and are receiving Passport Funding. Passport is a very flexible program. Funds are individualized and can be used to enhance community participation. Our last Action Guide, Using Passport Funding to Your Long-Term Advantage offered a number of creative ways to use Passport Funding.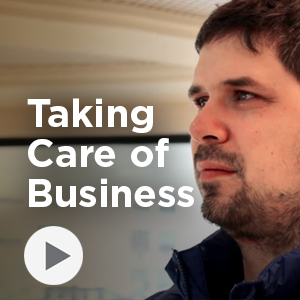 Entrepreneur Tony Downer has the sort of positive, can-do attitude required to succeed.
If your son or daughter needs help securing a job, a job coach can be an effective support. When searching for a job coach, do so with a critical eye – there are many programs available, some are effective and others less so. Before committing to a training program or job coach ask about their performance.
What percentage of trainees actually secure employment?
What is the average time a candidate waits for a job?
What types of jobs do trainees secure?
Are trainees matched with positions based on their interests and skills?
Once a trainee is hired, how long do they typically remain in the position?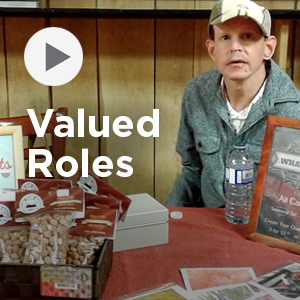 As Andrew and his network discussed opportunities, they came to the same conclusion – Andrew would aspire to become a businessman, too.
Another option to consider is starting a business. There are many reasons why starting a business may be a good option. A person starting a business usually does so out of a strong interest and skill they possess. The business owner has the flexibility to work on their business on their own schedule, whether its full time or part time. The role of being a business owner is highly valued in Canadian culture.

It may seem daunting, but given the right supports, starting a business can be a very positive experience.
School is the one life stage when a person is surrounded by others of the same age every day, five days a week. There is never a better opportunity to make friends and build a network. If the objective is "thriving" after high school, sustaining friendships made while in school is critical. In addition to students, there are teachers, teaching assistants or others who may have taken an interest in your son or daughter and may want to stay in touch after graduation.

While the ultimate goal is to maintain personal relationships, social media is effective for staying in touch with friends. Many parents will support their children on social media to participate on Facebook, Instagram, TicToc or other platforms. Keep in mind, social media friendships are not a replacement for friends someone may spend time with but can help maintain the connection.

And how about a LinkedIn Profile after graduation?

LinkedIn is the platform where adults profile their skills and interests in the hopes of finding work or making connections with others with shared interests. Simply having a LinkedIn Profile says a lot about your son or daughters' interest in staying connected.
For most young people, establishing their career path is their number one priority and it may be a priority for you and your son or daughter as well. But don't forget that almost every aspect of life for a person with a disability requires intention. You don't want to forget about the other aspects of life that are critical to thriving as an adult.
Continue to explore and develop new interests and passions

Think about developing expanding roles that are socially valued

Be intentional in nurturing friendships & supportive relationships

Develop a plan for creating a home

Create a long-term financial plan

Remember, life is a journey.

Choices made today may change as your son or daughter becomes more confident, has new experiences or develops new skills or interests. Every person deserves the right to learn, grow, explore and try new experiences in every stage of life.

Please send any additional thoughts or feedback on this Action Guide to info@p4p.ca